Santorini hotels and accommodations can be expensive, depending on the dates, the area, and the type of hotel, like everywhere else. The impression you have of this beautiful island will depend a lot on the area you choose and on being successful in choosing your accommodation. Here we give you information on how to choose hotels on Santorini Greece, taking into account the zones and kinds of hotels.
Best Places to stay on Santorini Island: The different zones
If you are visiting the island for the first time, you must first understand a few things before choosing where to stay in Santorini. You must first answer a few questions before starting your search:
The answer to those questions will guide you to the place where you should stay:
Cliff overlooking the Caldera
To be clear, the accommodations indicating "sea view" are not necessarily going to have the postcard view that you expect from Santorini. They may have a view of the sea (and I already have to verify it well, because it may be that you see only a little bit of the sea). Check the location of the room, the size and if it is a cellar type, I will explain it later.
Then, the fact that you choose one of the towns that overlooks the Caldera, does not mean that you will have that view. Also, check based on what you want to do as distance, Oia, the town with the most famous spots (the most you have seen in pictures), is located on the north of the island, half an hour from the airport.
Fira and Firostefani
Fira is the capital of Santorini, Firostefani, it is literally attached to Fira, and it is difficult to know where one begins and the other ends. However, it is quite evident that towards the Firostefani side, it is quieter and the accommodations have a higher standard. On this side there is no beach, don't even look for it.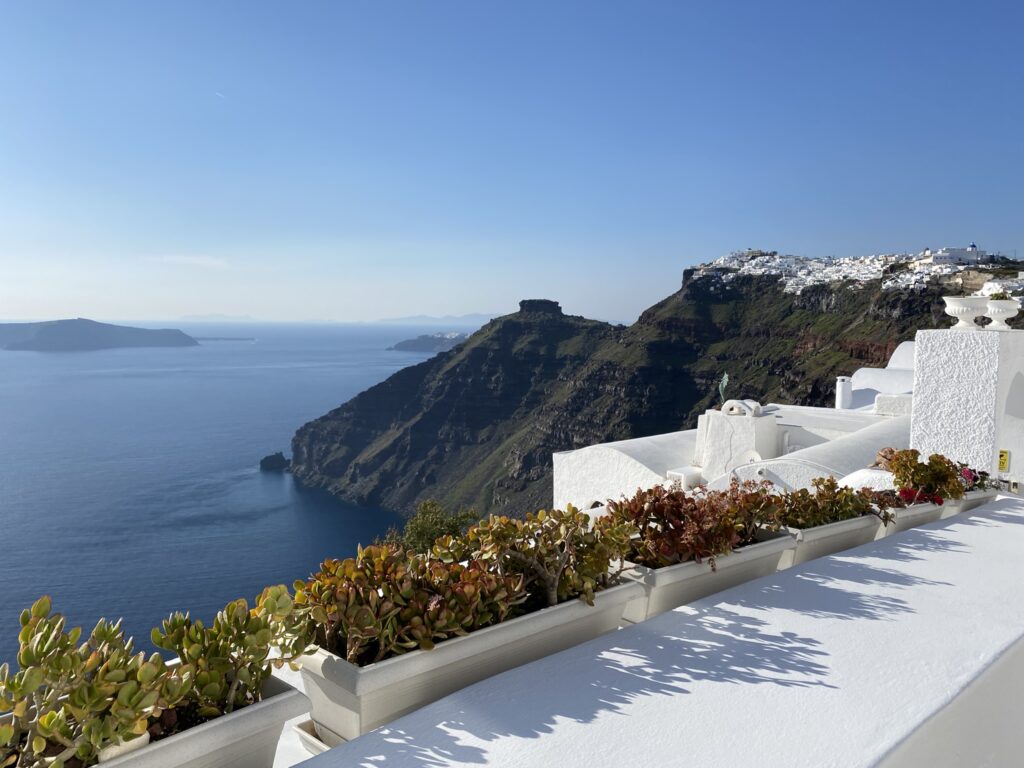 ---
Both towns are in the central area and look out towards the caldera, not all the town, only half of them. You can get around on foot, and you will find plenty of restaurants and shops with a wide variety of prices. If you travel in winter it is the best place to stay. You should avoid Fira at the time of the arrival of the Cruises, because that is where they disembark.
Oia : the most famous spot
It is a beautiful town with no doubt, somewhat isolated, because if you stay there, you either have a car, or you will have to take half an hour by bus to visit Fira or Imerovigli. It has a large part of the well-known spots and for this same reason, it is always full of people, in high season it can be unbearable.
The accommodation here is more expensive, the level is very high, and eating is also much more expensive here. Attention, because not all the accommodations will have a view towards the caldera. And to be honest, I consider they are not worth the price, especially in high season, when they can reach more than €1,000 per night. you are not going to get the value for that price.
It is possible to get very good accommodations during the high season under that price. It is a little tricky but not impossible.
Imerovigli
Between Oia and Firostefani, there is another of the towns located in front of the caldera, which I think is the highest of all. Imerovigli is super quiet and you can find better prices than in the previous towns. I do not recommend it in the low season because it will be like a ghost town. The only inconvenient is that there are fewer restaurants nearby.
Beach zones. Kamari, Perissa
If the beach and lounger areas are your thing then you should stay on the Kamari side. o Perissa It will be a totally different landscape, with black sand beaches, forget about the cliff, and the sunsets. They are the cheapest places to stay in Santorini, and it is quite beautiful with many places to eat, but you will not find exclusivity or the classic postcards, but rather a seaside resort like anywhere else in the Mediterranean.
On our last trips, we tried several areas, and one was Pyrgos, which is a more traditional town that is in the central area. I must say that new accommodation of a very high standard is emerging in this place. Pyrgos is a very charming little town, with typical little houses and blue domes. Being located high up, you have a magnificent view of the entire island.
You have to carefully evaluate where the accommodation is located and if they will take your bags to the hotel, the streets are winding, narrow and with many steps. It will not always be comfortable to have a car if you are very deep in the town.
Zone around Lighthouse: Akrotiri
To stay in this area you absolutely must have a car. Additionally, there are not many restaurants around here and you will have to move to other areas. But on the positive side, you will find a lot of tranquility when the island is crowded. Also from here, it is easy to access the lighthouse and the famous red beach.
Hotels on Santorini Greece : The different types and levels
Before looking for a place to stay in Santorini, consider what you expect and want from your accommodation for not to be disappointed or uncomfortable. Among other things, here I explain some terms that you will see frequently; and some tips when doing your search:
Cave House
Many of the accommodations on the cliffside will have this designation but pay close attention to the description of your room. Check the number of square meters, if you have a terrace and where it is located (many cave houses have the terrace on top, or separated from the room and not in front of the accommodation), if it has windows (this type of accommodation as its name, It says it's a cave and there's usually just a door with a window).
Suites – Luxury Suites
Pay attention to these "luxury suites", in Greece and particularly in Santorini this term is used a lot in a general way. The perception of Luxury will depend a lot on what you are used to in accommodations of this level because there are certainly very beautiful accommodations but they lack details to reach a true 5-star level. Recently we have been at a hotel in Oia designed as a 5-star hotel, but honestly, the hotel was very good but never a 5-star level.
Luxury Villas o Apartamentos
This is the term they use to designate the largest accommodations. But many times these will not be part of a hotel, and will be independent accommodation, and you will not have all the usual services of a hotel.
You will also find some private villas that have all the services of a 5-star hotel, but the price is going to be according to this. It depends on what are you looking for, and how many people will travel.
Superior or Luxury Rooms
In this term basically, everything enters, the important and crucial thing is to check the surface of the room, if it has a balcony or terrace, and where it is located. Some rooms are more expensive because they have a jacuzzi, but some of them are in a very bad location, facing the small streets where a lot of people pass through and your jacuzzi will not be private at all.
Our Selection of Santorini Accommodations
Firostefani
We stayed at the DANA Villas & Infinity Suites, beautiful, very spacious, and well-located. But the location of each room is to be watched, some are super badly located and will never be worth the price paid. The standard or superior rooms are very small, with little place to put suitcases and clothes. It's fine for a short stay. The breakfast is amazing. They open in late March like many accommodations.
We have been a couple of times in the ANTELIZ Suites, we like it a lot, especially the rooms around the pool. The view from the common terrace is impressive. Breakfast is good, not as good as Dana's, but of good quality. There is not much variety, and for long stays it can be repetitive. Attention with some rooms facing the street where passers-by pass.
For more contained budgets, you can opt for Blue Dolphins Santorini, located at the end of Firostefani towards Imerovigli. They are simpler but beautiful accommodations. The service is limited and the breakfasts are correct, without being exceptional. Attention because this accommodation has apartments in various parts of Santorini, so you have to verify the location. The advantage is that they are open all year.
We recently tried the Homeric Poems Boutique Hotel, super well located, an impressive view, and very good service. The rooms have good dimensions and those are appreciated, good breakfast that must be ordered the day before. We loved the view and the location of our room right in front of the pool, we had a great few days.
Oia
Here are beautiful accommodations, very luxurious. Other hotels are a little less luxurious and more accessible. My favorite is Canaves Oia Hotels, which is part of the Small Luxury Hotels. It is very exclusive because passers-by are not allowed to walk in front of the rooms, and the decoration is exceptionally beautiful. Note that under this name there are several hotels, all of them very nice, but located in different parts of Oia and with different rates. Open from April 1 to November 15.
Pyrgos
Here we stay in accommodation with a spectacular view of Pyrgos. But I must say that it was between this North Santorini and Sky Santorini. The two are not too far from each other, just that Sky Santorini overlooks the opposite side of the caldera. But both have beautiful views from the top of the island and excellent quality accommodations.
Breakfast in North Santorini is iiiiincredible. The only downside is that it is only open from May 1st to the end of October.
Inspiring Readings